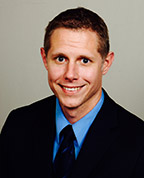 Matthew A. Butler, MD
General Cardiology
Dr. Matthew A. Butler is a Kansas native who grew up in Wellington. When coming to Wichita as a child, he remembers driving by the KU - Wichita School of Medicine, hoping that one day he would go there. In 2001, after graduating high school, Dr. Butler started at the University of Kansas and also joined the Kansas Air National Guard at McConnell Air Force Base as a jet engine mechanic, which was not only a means to pay for his college education, but most importantly, for the valuable experience that serving in the Air Force provided. Although he missed a semester due to military requirements, he still graduated on time and with Honors in Human Biology. Upon graduating in 2005, he completed his final year with the Air Force National Guard, while also working with AmeriCorps to improve access to healthcare in Northeast Kansas.
After completing his military commitment, Dr. Butler attended the KU School of Medicine including 2 years of clinical training at KU Medical School – Wichita Campus where he graduated in 2010. Following medical school, he completed residency in Internal Medicine at the KU Medical Center in Kansas City in 2013, where he found his passion for the complexities and nuances of cardiology.
Following residency, he started Cardiology Fellowship at the distinguished Shands Hospital with the University of Florida, in Gainesville. During his fellowship, he had the opportunity to work with many distinguished cardiologists not only at Shands Hospital, but also at Orlando Regional Medical Center, The Villages Hospital, and the Malcom Randall VA Medical Center, a regional referral center within the VA health system. Since starting his training, Dr. Butler became actively involved in cardiology research and has presented his findings at both regional and national conferences and has been published in the American Heart Association's journal, "Circulation." He remains passionate in perusing the latest innovations and treatments associated with cardiovascular disease, in order to provide the best possible care for his patients and has a particular interest in helping patients make healthy lifestyle changes for both the prevention and treatment of cardiovascular disease.
Dr. Butler recently moved back to Wichita from Florida in the summer of 2016, and is happy to be back home. He practices all aspects of invasive cardiology with a special interest in heart failure, given the complex and challenging nature of this condition. In his free time, he enjoys spending time with his dogs as well as visiting family throughout Kansas.
School
University of Kansas School of Medicine - Wichita
Residency
Internal Medicine (University of Kansas Medical Center - Kansas City)
Fellowship
Clinical Cardiology (University of Florida / Shands Hospital - Gainesville, FL)
Contact
Phone: 1.316.265.1308
Toll Free: 1.800.362.1093