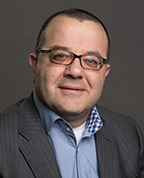 Aziz R. Maksoud, M.D.
Cardiovascular Diseases
Aziz R. Maksoud, MD graduated from the American University of Beirut in 1994. Dr. Maksoud went on to complete his Internal Medicine & Cardiology Fellowship at the University of Kansas School of Medicine. In 2007 Dr. Maksoud completed his Interventional Cardiology Fellow then joined our group. Dr. Maksoud is trained in echocardiography and nuclear medicine. Dr. Maksoud is the Director of Heart Failure Clinic.
School
American University of Beirut (Beirut, Lebanon)
Training
Specialty:
Cardiology (University of Kansas School of Medicine)
Subspecialty:
Interventional Cardiology (University of Connecticut/Hartford Hospital )
Board Certification
American Board of Internal Medicine
American Board of Cardiology
American Board of Nuclear Cardiology
American Board of Interventional Cardiology
Contact
Phone: 1.316.265.1308
Toll Free: 1.800.362.1093