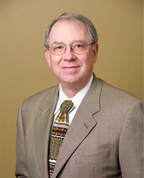 Richard A. Steckley, M.D.
Internal Medicine, Cardiovascular Medicine
In 1980, Richard A. Steckley, MD joined our group from Vanderbilt University in Nashville, Tennessee. Dr. Steckley is Board Certified not only in Cardiology and Internal Medicine, as all the members of our group are, but also in Nuclear Cardiology and has been Director of Nuclear Cardiology at Via Christi/St. Francis Regional Medical Center since that department opened in July 1980.
School
Louisiana State University
Training
Specialty:
Internal Medicine (Vanderbilt University School of Medicine)
Subspeciality:
Cardiology (Vanderbilt University School of Medicine)
Nuclear Medicine (Vanderbilt University School of Medicine)
Board Certification
Internal Medicine
Cardiology
Nuclear Medicine
Contact
Phone: 1.316.265.1308
Toll Free: 1.800.362.1093