Thank you for selecting Cardiovascular Consultants of Kansas to participate in your cardiology care. Our physicians and staff are focused on your health – providing education and prevention through diagnosis, treatment and cardiac rehabilitation. Our cardiology team has treated thousands of Kansans from every corner of the state. We are conveniently connected to the Kansas Heart Hospital in an environment where you'll receive centralized care and attention without ever leaving the building. The cardiac specialists and superior nursing and support staff look forward to caring for you and your loved ones.
9350 E 35th Street North, Suite 101
Wichita, Kansas 67226
Toll Free: 800-362-1093
Phone: 1.316.265.1308
Licensed Medical Staff
Richard A. Steckley, M.D.
Thomas L. Ashcom, M.D., PhD
Layne M. Reusser, M.D.
Jason T. Tauke, M.D.
Aziz R. Maksoud, M.D.
Dhaval R. Parikh, M.D.
Bassem M. Chehab, M.D.
Joseph R Zenisek, MD
Christian A Hourani, MD
Combining Compassion and Technology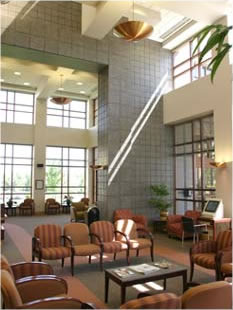 Cardiovascular Consultants of Kansas, PA consists of 9 cardiologists practicing in Wichita, Kansas offering a full range of services for patients with heart disease in our office, at outreach clinics, and in hospitals serving the Wichita area and the state of Kansas. Our physicians have over 200 years of combined experience and are leaders in our field. We treat diseases of the heart muscle, heart arteries, arteries of the legs and neck, heart valves, and the electrical system of the heart. Our goal is to provide you with all of the care and information you need about your heart.
Please use the links above to learn more about each of our cardiovascular specialists, our services, our outreach locations, and to access our new patient forms.
Find Us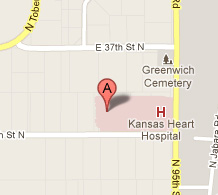 9350 E 35th Street North, Suite 101
Wichita, Kansas 67226
Phone: 1.316.265.1308
Toll Free: 1.800.362.1093

Inpatient Services
• Consultations and follow-up visits
• "Heart caths"
• "Ballooning" of blocked heart and peripheral arteries (PTCA)
• Placing stents of blocked heart and peripheral arteries (PTSA)
• Studies of the electrical system of the heart
• Atrial Fibrillation Ablation and other ablation procedures
• Placement of Pacemakers and Defibrillators
• Transesophageal Echocardiograms (TEE)
• Sturctural Interventional Cardiology (TAVR Lab)
Outpatient Services
• Consultations and follow-up visits
• Electrocardiograms (EKG)
• Echocardiograms (sonograms of the heart)
• Stress Tests and "Chemical Stress Tests" with and without imaging
• Vascular ultrasound evaluations
• Pacemaker checks
• Heart Rhythm monitoring devices
Kansas Outreach Clinics
Appointments at these clinics can be made by contacting our Wichita office at 800-362-1093
• Allen County Hospital
• Anthony Medical Center
• Central Kansas Family Practice
• Clara Barton Hospital
• Dodge City Medical Center
• Edwards County Hospital
• El Dorado Clinic
• Fredonia Regional Hospital
• Hillsboro Community Hospital
• Kingman Community Hospital
• Kiowa County Memorial Hospital
• Kiowa Clinic
• Medicine Lodge Memorial Hospital
• Mercy Physician's Group
• Neosho Memorial Hospital
• Pratt Internal Medicine Group
• Sumner County Family Care
• Sumner Regional Medical Center
Patient Forms